Trail Boss: Bill Butler. 7 Days. Fully Catered and supported. Horse 'n riders welcome. Ride out by 8am, typically in by 4pm. Good solid days riding mostly over high country/farm 4WD tracks and cross country.
$760 for riders. $720 for backups. $30 discount for OGHT members – contact office for discount code.
When do I need to be where? Moa Flat (exact address TBC)– from 3pm on the 23rd February 2019.
How hard will the days be? Between 30-40km per day. This is one of the tougher rides on the Cavalcade. Longer days possible, more testring for horse and rider because of terrain. A good level of fitness and experience required.
What can we expect en route? AMAZING VIEWS, interesting gold mining and historic sites/relics,  FANTASTIC FOOD, Very capable and experienced Trail Boss and Wranglers! And a great bunch of other like minded horse enthusiasts! A dress-up party mid week (Yes you have to dress up)! Really bloody hot temperatures! 30 degrees plus. Freezing cold temperatures! -5 degrees maybe colder with the wind chill factor – You can get all sorts of weather in these Central Otago Mountains. At this time of year it is typically warm/hot but southerly storms can blow through (short lived) at any time.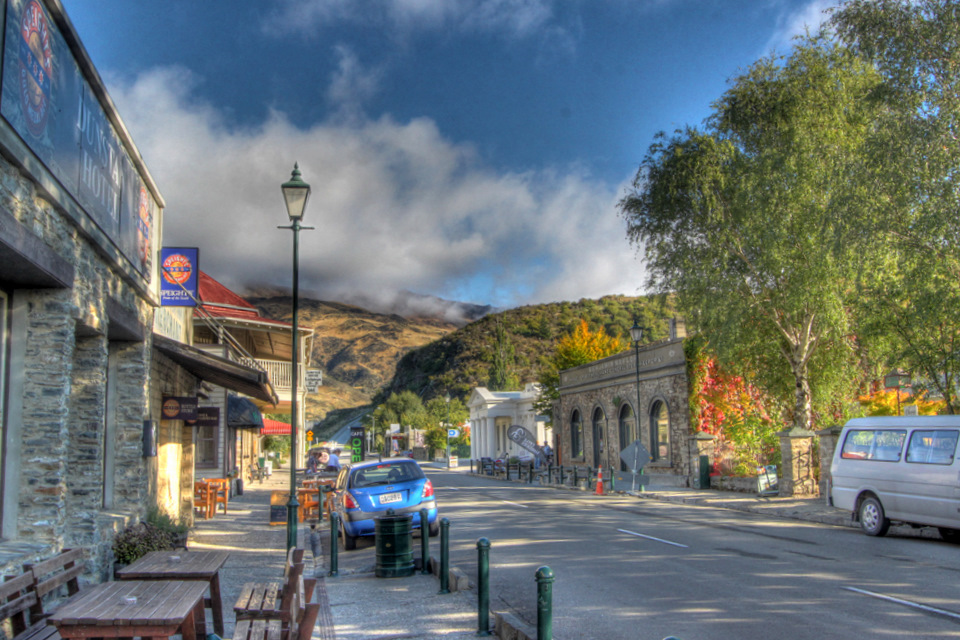 What do I need to bring? A horse!
Waterproof coat/jacket, leggings & hat
Jersey, balaclava, socks, longjohns, gloves
Hot weather gear e.g shorts & T shirt
Gaiters are a good idea to keep rubbish & rain out of boots
Riding boots or boots with a heel suitable for walking
Plate/bowl, cutlery, drinking vessel, tea towel.
Towel & toilet articles
Sleeping bag & mat / stretcher
Sunscreen & insect repellent
Personal items and a roll of loo paper
Small first aid kit for you and your horse
Camera & torch
Don't forget a wee treat for yourself and your horse
Water bottle
Personal medications
Money for the bar and Host Town
Baby wipes are handy when hand washing difficult
Small ground cover to put down in yards to put your gear on
Where are we going?
Saturday 23rd February meet at the Brensell's Whitecombe-Run, Moa Flat from midafternoon on. Overnighting on the banks of the Pomahaka river.
Sunday 24th  We start our journey by following along the sparkling Pomahaka river in the shadow of the Umbrella mountains with Mount Benger on our shoulder. Traveling out into the Whitecombe country, we cross the Jordan on our way out towards the Junction hut and on to our first night spot. This is where we will camp out on a ridge overlooking the Teviot Valley. If the weather is a bit inclement, we may retreat to the valley floor.  Moderate Day
Monday 25th Heading in the morning towards Wakaia Bush road and out onto the Old Man Range, (Kopuwai) on past Hyde Rock. Most of the day will be spent above 1000 metres reaching a height of 1673 metres. Highlight of the day is a spot where the whole world is at our feet! To the south you can see right to Stewart Island, to the north up to St Bathans, west to the back of the Remarkables, and east all the way to the Coast. On a great day the most memorable view, on an average day, memorable for other reasons. At the end of the day we descend down to the Earnscleugh Valley. Long day but easy riding.
Tuesday 26th We skirt around the Clyde's orcharding areas. We cross the Clutha River (Mata Au) at the Clyde Township. If I can arrange parking, we could possible stop for refreshments. Riding up above the Dam we travel onto our night spot. This will be transformed into 1920's speak easy,complete with Casino, so, come along as Gangster, Flapper or Swaggy down on your luck. Easy day with bit of road work.
Wednesday 27th Beginning our day at 340metres we climb and climb and climb up a magnificent ridge onto the Dunstan Mountains and past Leaning Rock 1647 metres.  This is a truly magical place on a clear day, a real wonder to behold. The stark landscape and amazing views will leave you spellbound. We then make our way along and back down through some historic mining sights at Logan town on our way to Bendigo for a well-deserved rest.
Long Challenging day
Thursday 28th Good easy day for rider and horse out along the Lindis river up over Cluden hill and onto Lindis Downs. Easy Day.
Friday 1st Heading back to the tops travelling up the Grand View ridge to the Grand view Mountain 1394 metres. What a fitting name for the panorama which will be laid out before you. We have a steep descent down the Cameron Gully to Mount Grand. Moderate Day.
Saturday 2nd We are travelling only a short distance to the Hawea Domain so we will be joining a couple of other trails to ride to the Lake then through Lake Hawea township.
This ride has some challenging aspects so both riders and horses need to be well prepared. A good level of fitness is essential. Horses need to be freshly shod. Good quality wet and cold weather clothing is compulsory. We will be camping out so tents are required. Our theme for the fancy dress night is "Gangsters Flappers and Swaggies (1920's)." Look forward to seeing all soon
Bill "Machine Gun" Butler.
Questions specific to this trail? Ask The Boss – mandyandbill@xtra.co.nz
Questions about the Cavalcade in general and entry process, support… Ask the organiser terry@cavalcade.co.nz Or call the office 03 445 0111